I have previously mentioned my admiration for Jane Asher, a striking titian-haired 1960s actress who was a fashion icon of that period, and who subsequently branched out into many different and successful business ventures. For those who are not familiar with Jane in her 1960s heyday, here is an oft-sighted publicity shot: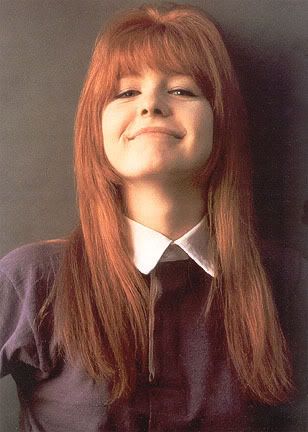 One of Jane's business ventures is
Jane Asher's Party Cakes
in Kensington, London, which sells cake decorating supplies, and from where you can order fancy decorated cakes. In conjunction with that business, Jane has written a small baking book called
Beautiful Baking
, which contains 40 of her favourite British classic home recipes. These baked goods are not the fancy kind you can buy for her shop, but rather, the kind that you may have if you ever dropped in for tea with Jane.
The first recipe that I have chosen to make out of
Beautiful Baking
is Marmalade Cake. I am rather a fan of marmalade cake, and although delicious,
Nigel Slater's marmalade cake
tends to sink deeply in the middle (at least when I make it - and I have made it twice). This has a nasty impact on the cake's aesthetics. Accordingly, as Jane's cake seemed to be sink hole free, I was keen to give it a try using my
Robertson's Golden Shred Marmalade
from
Treats from Home
.
This cake was plain and simple, yet delicious. It is not a very tall cake - I used an 8" inch pan, and ended up with a relatively short cake. Here is my unfrosted cake (with not a crater in sight):
I decided to decorate my cake using leftover icing from the
Le Papillon cake
, giving me a jaffa cake:
However, you can easily eat this cake plain (I think it would be smashing heated up and served with warm custard for pudding), or decorate it with simple white glace icing, perhaps made with orange juice for some extra orange zing.
To make this cake, you will need:
75g sugar
2 eggs, lightly beaten
3 tablespoons marmalade
1-2 teaspoons orange zest
150g self raising flour
2 tablespoons milk
1 teaspoon baking powder
Preheat your oven to 180 degrees Celsius and grease and line an 8" cake tin.
Using an electric mixer, beat the butter and sugar together until light and creamy. Add the egg to the mixture, beating continuously.
Using a wooden spoon or rubber spatula, stir the orange zest and marmalade into the cake batter. Sift the flour and baking powder together in a separate bowl, then fold into the cake batter, together with enough milk to make a thick cake batter.
Spread the cake batter evenly into your prepared cake tin, and bake in your pre-heated oven for around 30 minutes or until cooked through. Remove the cake from the oven and allow it to cool in the tin for 5 minutes, before turning onto a wire rack to cool completely.